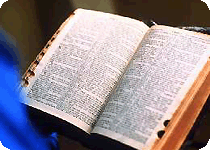 Key Text
"This know also, that in the last days perilous times shall come." 2 Timothy 3:1

Moral Degeneracy
Prophecy: "In the last days ... men shall be lovers of their own selves, ... Without natural affection, ... incontinent, ... despisers of those that are good, ... Having a form of godliness, but denying the power thereof." 2 Timothy 3:1-5.

America is in the midst of a tremendous crisis. An epidemic of pornography, crime, illegal drugs, and moral degeneracy is threatening to overwhelm us. Suicide is becoming a popular solution to human problems. Divorce rates are climbing wildly, with nearly one marriage in two ending in the divorce court. The current immoral generation--with its obsession with sex and filth, with its increasing church membership but decreasing true spirituality--is plain and positive fulfillment of God's Word. For a real shock, see how many of the last-day sins listed in 2 Timothy 3:1-5 you can find depicted in any issue of your Sunday newspaper. Nothing short of the coming of the Lord will stem the tide of evil that is now engulfing the world.