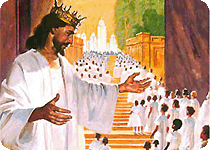 The Bible is a record of two kingdoms in constant conflict--the kingdom of God and the kingdom of Satan. Jesus made the kingdom of God central in His preaching. There are over 100 references to the kingdom of God in the New Testament alone, and many are contained in Jesus' parables. From His teachings we learn that God's divine kingdom is divided into two different categories--the spiritual and the literal.

Citizens of the spiritual kingdom of heaven have God ruling and reigning in their hearts. Before conversion, the throne in our hearts is occupied by Satan, sin, and self. But after we accept the forgiveness and power of Jesus, that bondage is broken. This is why Paul says, "Let not sin therefore reign in your mortal body, that ye should obey it in the lusts thereof. ... For sin shall not have dominion over you." Romans 6:12, 14. "But if I with the finger of God cast out devils, no doubt the kingdom of God is come upon you." Luke 11:20.

As soon as a person receives Christ, he instantly becomes a citizen of God's spiritual kingdom. This is why both Jesus and John the Baptist began their ministries by urging people to repent and be baptized, "for the kingdom of heaven is at hand." Matthew 3:2; 4:17. "At hand" means available or accessible now. Jesus said, "The kingdom of God cometh not with observation: Neither shall they say, Lo here! or, lo there! for, behold, the kingdom of God is within you." Luke 17:20, 21. As soon as a person is baptized, he leaves Satan's kingdom of darkness and joins God's kingdom of light. To learn more about Jesus and prepare for his kingdom please continue with these FREE Bible Studies.